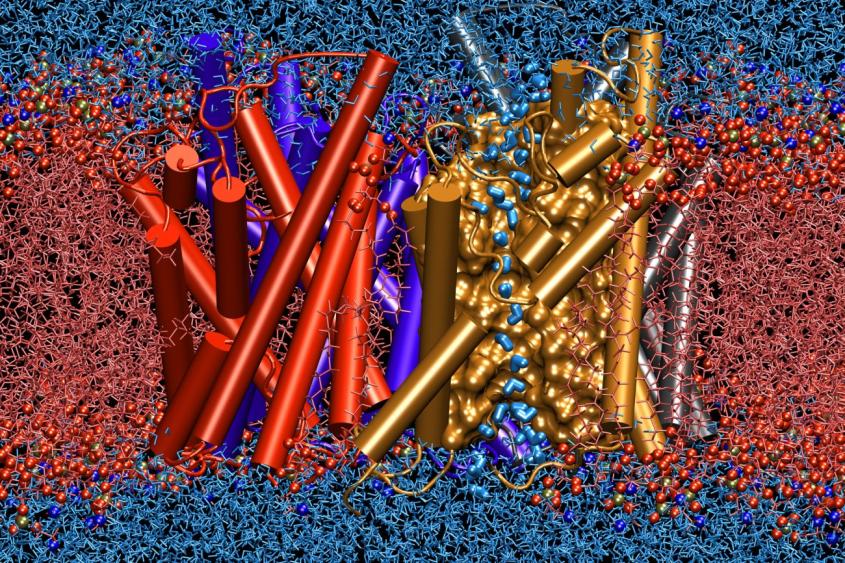 How does water pass through the normally impermeable cell membranes of living organisms? It was not until recently that we understood the mechanism, the discovery of which won Peter Agre the 2003 Nobel Prize in Chemistry. The answer to the question lies in a single protein, aquaporin.
A Danish bio- and nanotechnology startup is now developing an aquaporin-based membrane capable of separating water from all other compounds. Applications include the desalination of seawater, purification of drinking water, and the production of the ultra-pure water required in medicine, biotechnology and the production of electronic devices.
AQUAporin A/S, a company based in Copenhagen and Odense, was founded in 2005 by biochemists Morten Østergaard Jensen and Peter Holme Jensen. The inspiration for their work is the molecular modelling simulations of water transport through aquaporin molecules developed by Morten Østergaard Jensen, which are included in the Nobel Prize citation.
"Compared with other membranes, AQUAporin membrane technology has an energy saving potential of 400-500%," says Peter Holme Jensen. "This means 4-5 times as much water will flow across the membrane using the same pressure."
Jensen claims also that the AQUAporin membrane is 10,000 times more selective toward water than any other.
AQUAporin last year closed its first round of financing with Danish venture capitalists Teknologisk Innovation A/S, and proof of concept has now been provided by its research laboratory. Scaling up of the first membrane design is currently underway, and the technology is expected to come to market in early 2008.
AQUAporin is involved in an EU-funded project in collaboration with six European universities and two industrial partners, including Veolia Water of France.
The graphic above is a visualisation of water permeation through aquaporin molecules. Boomerang-shaped water molecules flip as they cross the narrow pore of gold aquaporin, while the red balls and fibres that make up the cell's membrane keep the outside water (top) from mixing with the cellular pool (bottom). The image was made by Emad Tajkhorshid using VMD, and is owned by the Theoretical and Computational Biophysics Group – an NIH Resource for Macromolecular Modeling and Bioinformatics – at the Beckman Institute, University of Illinois at Urbana-Champaign. It was the 2004 winner of the National Science Foundation's Visualization Challenge in Science and Engineering. Click on the image to go to find out more.
Article first published in Nanomaterials News. © 2006 Pira International – all rights reserved.